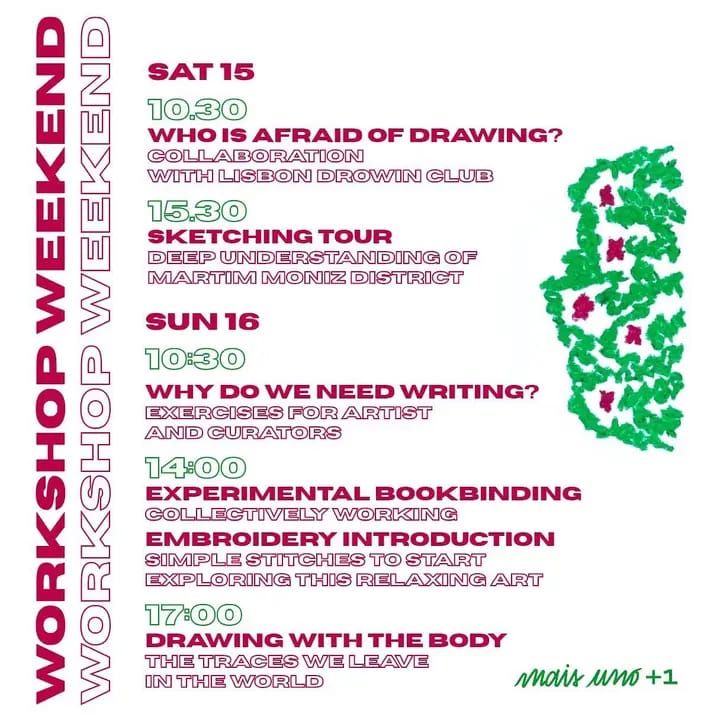 Hourly Schedule
Saturday 15
10h30

-

13h00

WHO IS AFRAID OF DRAWING?

Lígia Fernandes + Lisbon Drawing Club In this workshop will will address the things that make us fearful in drawing. Through care, play and creativity, we will develop a series of experiences that will improve our freedom in drawing. Only when we are free to express ourselves we are able to explore the potential of drawing. So much about learning how to draw is related to learning how to deal with ourselves. I invite you in, and we will combine differente elements such as storytelling, music, gestures, mark making and finally building own drawing tools through recycling. We will then apply these tools in observational drawing. This workshop happens in collaboration with Lisbon Drawing Club, who organizes monthly Masterclasses with guest artists and life drawing sessions.
15h30

-

19h00

SKETCHING TOUR (outside)

Alina Shpakova The workshop is a sketching tour from Martim Moniz to Intendente square dedicated to a deeper understanding of the district. Martim Moniz is a multipurpose place where different cultures meet each other. More than 50 nationalities live and work here, tourists are in line for the tram №28, there's a commercial center with a metro station, historical fado street, and plenty of azuleju buildings to be discovered. We'll make a series of 10-15 min sketches in small notebooks to get a visual adventure in this authentic area. In the end, we'll share our vision with each other and enjoy the inspiration!
Sunday 16
10h30

-

13h00

ART WRITING WORKSHOP (Inside)

Alexia Alexandropoulou + Artistas Anónimos Writing is an important tool for artists and curators to present their work to the public. In this workshop we will introduce a set of exercises, so the participants can learn how to write and speak about their or others' work and present it to the public. The workshop will include a peer learning session and encourages participants to bring an everyday object and an image of their artwork (if they are artists) or an artwork they want to describe if they are curators/other professionals. After the workshop, the list of exercises and other learning materials will be sent to the participants, so they can further reflect on them at home. This workshop happens in collaboration with Artistas Anónimos, who organizes monthly meetings discussing art practice, both in Lisbon and Porto
14h00

-

16h30

EXPERIMENTAL BOOKBINDING

Laura + Marta + Elizabeth In this workshop we will teach you how to bind your perfect mixed media sketchbook. We will provide you with basic tools, such as plain A4 paper, needles and thread, but you are encouraged to bring special paper you like to work with, such as watercolour paper, old experiments you would like to reuse, misshaped coloured paper, transfer sheets old newspapers - anything could be reused and repurposed. At the end of the workshop each participant will take away their perfect sketchbook bound in coptic stitch. And partecipate at the creation of a collectively bound art object.
14h00

-

16h30

EMBROYDERY WORKSHOP (Outside)

Rita Dias Embroidery can be a record of our daily lives, a decorative work, or an art form. The act of embroidering can be deeply relaxing and even a form of meditation. In this workshop I propose to teach some simple stitches so that each participant can create a creative and personal embroidery.Participants are advised to bring plain cotton fabric to embroider, promoting recycling. All necessary materials will be provided (hoops, thread, unbleached cloth, needles)
17h00

-

19h30

DRAWING WITH THE BODY

Inês Nêves Any living being, throughout its existence, leaves several marks on the spaces around it. A bear walking the forest leaves a track of footsteps on the ground; a fish swimming a lake leaves a trace of ripples on the water; a tree outliving Autumn sheds leaves that spread around the world drawing multiple invisible paths. In this workshop, we will reflect on the traces we leave on the world, exploring movement and body activation as a tool to draw lines and marks. Through different individual and collective exercises, we will use bodily expression to make several drawings on different scales.