---
29 September – 3 October 2022
Vernissage Thursday 29 September – 6pm feat. @ph49907 (DJ Set)
---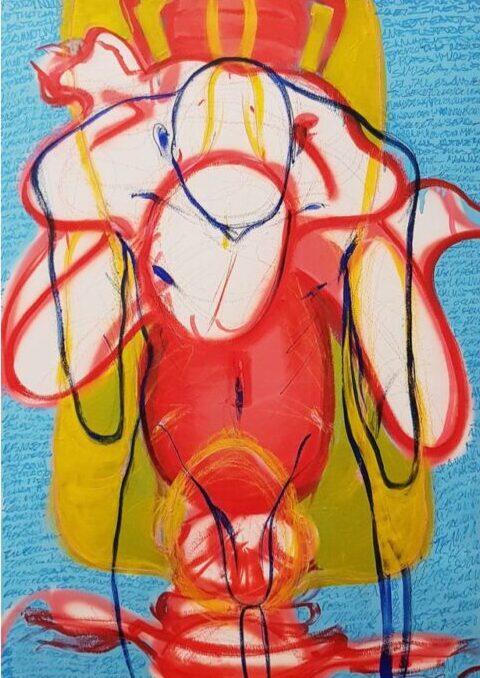 Meet Belas Artes visual artists from 29th September at Prisma !
Three emergent artists from Belas Artes will exhibit their works in Prisma.
The line of the exhibition transcends from the conceptual to the material.
Teresa's retrained metal frames articulate the conceptual query of the content by leaving a negative space for us to ponder on.
Francisca's work bridges between this conceptual and material by hanging colourful two dimensional worms on a free standing installation occupying the centre of the space. Transmorphing from the minute and more subdued line to the corporal and material showcasing of her engravings.
Mafalda who's almost fauvist eruptive language uses bold primary colours and evokes post impressionist allusions to Gauguin through a simple graphic touch.
Events of the week
THU (29 Sep) / 18h00 – 23h00 / Vernissage feat. ph49907 (DJ Set)*
MON (03 Oct) / 17h00 – 20h00 / Exhibition*
* Free event for all members. Annual membership fee 3 EUR
ARTISTS
Teresa Oliveira
Teresa Oliveira (2001) lives and works in Barreiro and Lisbon, Portugal. She is currently attending the final year of the Painting degree at the Faculty of Fine Arts of the University of Lisbon.
Teresa Oliveira's artistic practice focuses on a reflection on space, the object, and the space in the object. Developing an essentially three-dimensional project, her work mainly focuses on formal issues, being interested in the dialogue and relationship between textures, materials and substances, opacities, and shapes. Often emerging from the experimental, she is focused on the work conveying its essence of trial and error, of construction and deconstruction.
Although she clearly gives primacy to a more minimal language, there is an addition of random elements that work as if to deepen a more organic and sometimes chaotic dimension, mixing the architectural with the unpredictable, the regular with the irregular.
Mafalda Soares
Mafalda Negas Camalhão Calçada Soares frequented Externato João Alberto Faria where she studied Visual Arts. Mafalda took part in the artistic festival "It's Happening" in 2018, displayed her first solo show in the InBloom gallery in 2019, participated in a collective show in The Holy Art gallery in London, 2021, and most recently, in Patio Nº2' s collective exhibition in 2022.
At the moment Mafalda is enrolled in the 3rd year of her painting bachelors in FBAUL (Fine Arts Faculty of Lisbon).
Francisca Lafuente
Francisca is a visual artist based in Lisbon. Her works explore abstract and expressive nature, plastic process of decomposition, fragmentation of photographs and appropriation of colors present in them.
---