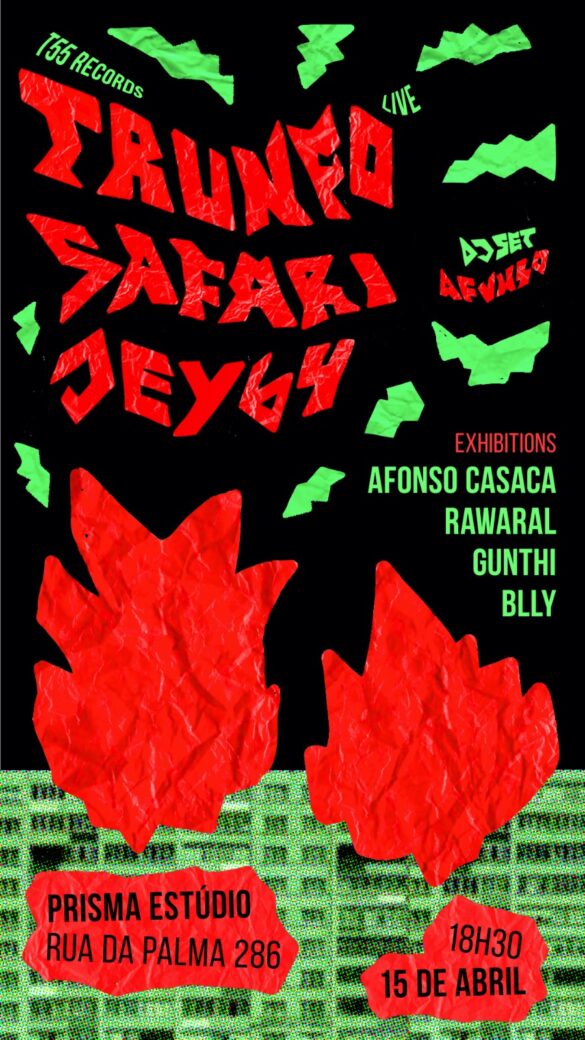 T55 LIVE SHOW
T55 (T double five) @t55.recs s an underground hip hop group created in 2019 by a group of friends, consisting of jey64, trunFo, Safari and Prod. Afvnso. It all started with rhyming battles they did in their spare time and have been working together ever since. The objective of T55 is to make known both the talent that exists on the South Bank, but also to put Pinhal Novo on the radar of national hip hop. Their great commitment to strong lyrics, striking beats and their approach to the reality that surrounds them are some of the characteristics that distinguish them and the group promises to make history.
Doors open 6.30 pm – Entrance free for members
ARTISTS
Safari
João Farinhas, better known as Safari, began his journey as a member of the T55 group.
He has an interest in music from an early age and it is in his play on words and melodies that he creates emotional songs and shows his passion. Safari already has several video clips on their social networks and for some of their singles. On March 1, 2023, he presents his EP "Persona", where he addresses personal and intrinsic issues, but also of the human personality.
trunFo
s the artistic name of Hugo Carvalho, also a member of T55. The fusion between classic and modern sounds makes trunFo a strong personality in the world of hip hop.
Punch lines, puns and a multitude of flows are this artist's individual trait. "FAITH", "1 Dose", "NO JOKE" are some of the singles that you can hear on trunFo's digital platforms, as well as the most recent project "Sem Esquecer".
jey64
is a complete artist, who recently presented his project "Keep It Real". He is currently studying in the area of ​​sound and image in order to improve his skills.
jey64 is known for his unique rhyming style, which combines puns with creativity and a very thorough approach to his production. It was at a young age that he gained an interest in "rap" and since then, he has launched several projects, including music videos.
afvnso
is a multifaceted artist from Amadora. It has skills in beatmaking and graphic design. He already had some shows in Caldas da Rainha, where he presented and demonstrated his talent and passion for music.