---
Saturday 18 March 6 – 11pm €4
---
Merai and Cora join together to present a evening of female authorial music.
---
Doors open 6 pm – Entrance €4
---
---
CORA
---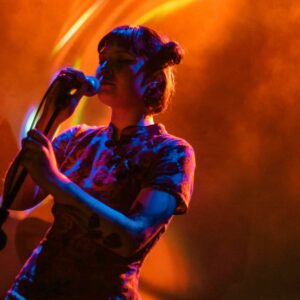 Cora has created her own experimental musical universe, combining elements of hip hop and electronic music to produce a unique sound. She has collaborated with Jackie to release her debut EP, "Trochilidae," on Raia Records, a label on the south bank that features artists like Nerve, Orteum, and TILT. The EP includes hit singles such as "Podre," "Semente" (featuring Dj Ketzal), and "Orla" (featuring TILT), which have been praised by the national hip-hop media as indicative of an emerging talent worth following.
Cora showcased her EP live at Musicbox in Lisbon in March 2022 and is currently working on new tracks that maintain her signature aesthetic of lightness and delicacy. Her music offers a healing experience for listeners, highlighting her personal journey and evolution through her craft.
---
MERAI
---
Merai is a multitalented artist from Lisbon, boasting skills as a singer-songwriter, producer, activist, and writer. She first began playing classical music at the tender age of six, and has since developed her music under the stage name "Merai," inspired by a bird-woman character from her own stories.
In February of this year, Merai released her EP "Fénix," a project exploring life and death from her unique perspective. The EP features four collaborative tracks with MikelPotter that seamlessly blend elements of pop, afro, and electronica, coupled with ornate writing and Merai's sweet yet powerful vocals. Throughout the project, Merai immerses listeners in a world of magic, culminating in a cathartic experience that cleanses the soul and reminds us of our origins.