---
Friday 17 March – 7pm
---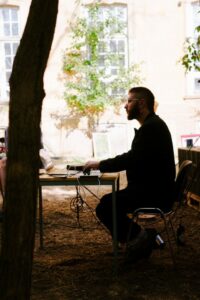 Join us at the opening of the "TOXIC – Loveletters to Addiction" art exhibition and sit down to face addiction.
Experience an interactive performance by the artist followed by an evening of music by David Bilek.
David Bilek's sonic research explores space and perspective.
He questions how we perceive and what we can perceive. He uses various forms of sound including soundscape composition, minimal music, installations, music concrete, and pop-musical genres to explore new ways of listening.
---
Doors open 7 pm -Free event for all members. Annual membership fee €3
---
---
Artista
---
Carina A. Stiefel is a transdisciplinary artist, of Swiss-Brazilian descent, who has called Lisbon home since 2022.
Their art is characterized by public performances that carry a powerful social message. At the heart of all their works is a deep connection to spirituality.
Currently her focus is on the power of owns one voice, from a scientific as well as an artistic
point of view.
"Healing and transformation through creativity, then to create is our highest potential."