---
Wednesday 30 November 6-11pm €2
---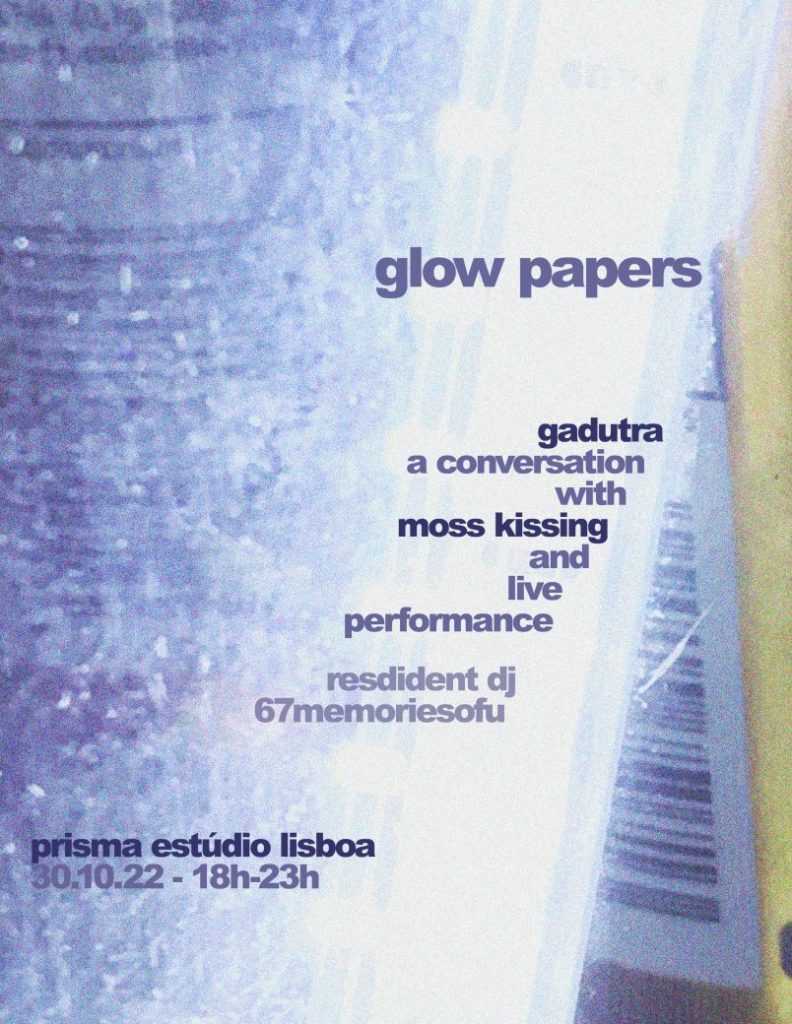 Glow Papers invites multi- artist Gadutra for an evening of conversation and live performance.
Moss Kissing will speak with Gadutra about her experimental approach to making work, that covers tattooing, performance art and experimental music.
Join us at Prisma Estúdios for a different kind of electronic music event.
Glow Papers is an event, an archive and soon to be journal of experimental music and performance. The goal of the Glow Papers events is to create context and revenue for a future publication. We encourage the sharing of work, as well as the conversations that take place between practicing artists and those experiencing the works.
Resident DJ Glow Papers DJ @67memoriesofu will provide music before and after the main event.
Poster design by Letícia Clementi & Moss Kissing
---
ARTIST
---
Gadutra is a Brazilian, 27 years old, Lisbon based multi artist that researches mostly through music, tattoos, photography and design.
1/2 of REZGATE, a ritual live performing duo, creating soundscapes and visual installations.
Since 2017, Gadutra has been part of the queer emergent scene in portugal, mainly with live performances, dj sets or videomapping.
Released in 2021 her first album "lagarta" distributed by TroubleMaker records.
Has collaborated with projects/artists as MINA, NOPORN, INFERNO, chernobyl, trypas corassão, luedji luna, nídia.
Moss Kissing is a musician, performer and an audiographic researcher based in Lisboa. He began running glow papers in an attempt to contribute to the local scene. He will conduct a conversation with Gadutra which will then be published in the first issue of glow papers.