7 August 7pm
---
Relational Speculations
body, space and shared lived experiences
How do we relate to others? How does space change when our bodies interact with one another? Sitting in a room with a lover or a friend, in sorrow or joy, brings along transformations within us and our relation to the place in which these relations dwell. How may we honour these moments of transformation, self-reflection and shared forms of experiencing the world?
We invite you to an open talk about our shared lived experiences of love and grief in relational situations, in the context of barbara gocníková's exhibition "cafuné you", where we can bring our intimate stories in a safe public space.
This talk will be held in English.
---
my body is a heterotopia
performance by Mickey Bourne
What happens when an intimate moment is conducted in public, such as the process of writing a love letter to an ex-partner? Even if the audience are unacknowledged, how do they affect space and disturb the writing? My body is a heterotopia explores the interrelationship between subjectivity, space and art-making, in which the audience become co-authors of a private love letter, as constituents of a shared subjectivity. Writing is never an isolated incident: it occurs as a conversation, emerging from subjectivities that are produced in situ, both in and out of a body. Space is a lover to whom we orient and are oriented, imposing on one another our histories and desires, and negotiating distance, delineation and chaos. With clear boundaries, and yet the amorphism of self. A modern couple. And in our lovers' imprints, we begin to trace questions: what is unseen but felt? How is absence its own phenomenological experience? And who am 'I' without you? To ask the questions is to answer them.
Free event for all the members.
Year membership: 3 euros
---
ARTISTS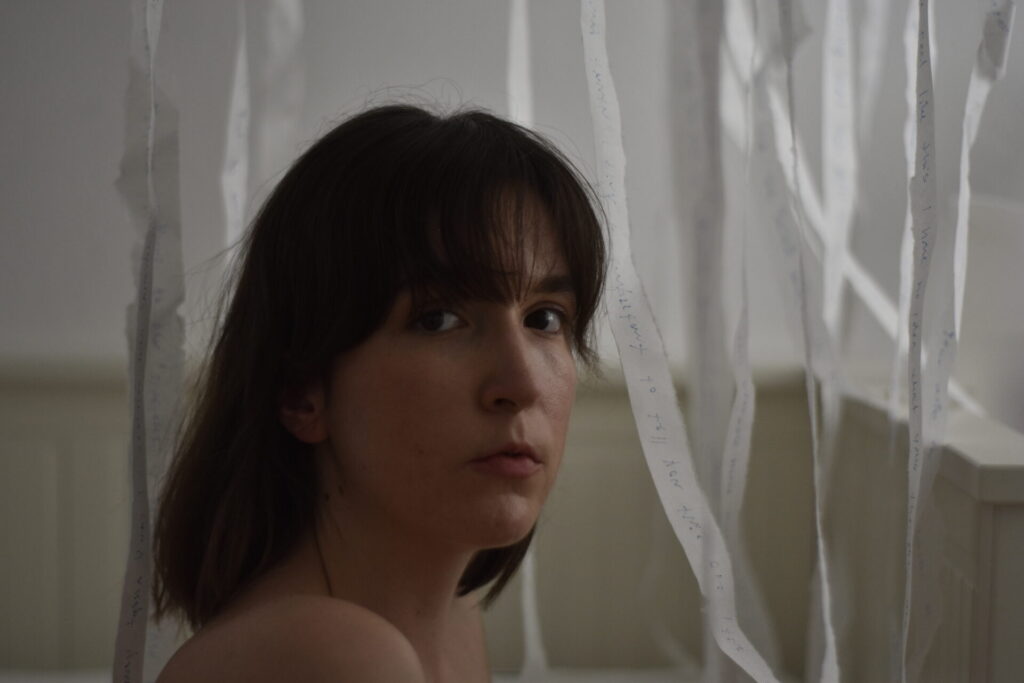 Barbara Gocníková (1996) is a visual artist from the Slovak-Hungarian border.
Her artistic research focuses on the communication between the subject and the surrounding, the subject's role/position in relation to an environment. The aim of her research is to find an intersubjectivity of perception of the environment in which we find ourselves. In her artistic practice, she is experimenting with print terminology. Barbara Gocníková holds a master's degree from the Academy of Fine Arts and Design in Bratislava – Print and Other Media. Her academic career also passed through Poland and Japan. She is the author and project manager of the collective exhibition-SPLEEN. She collaborated with the Kalab centre in Bratislava as part of a collective art project-Please wait meeting host will let you in soon (2021). She is currently working as an artistic assistant in Lisbon.
---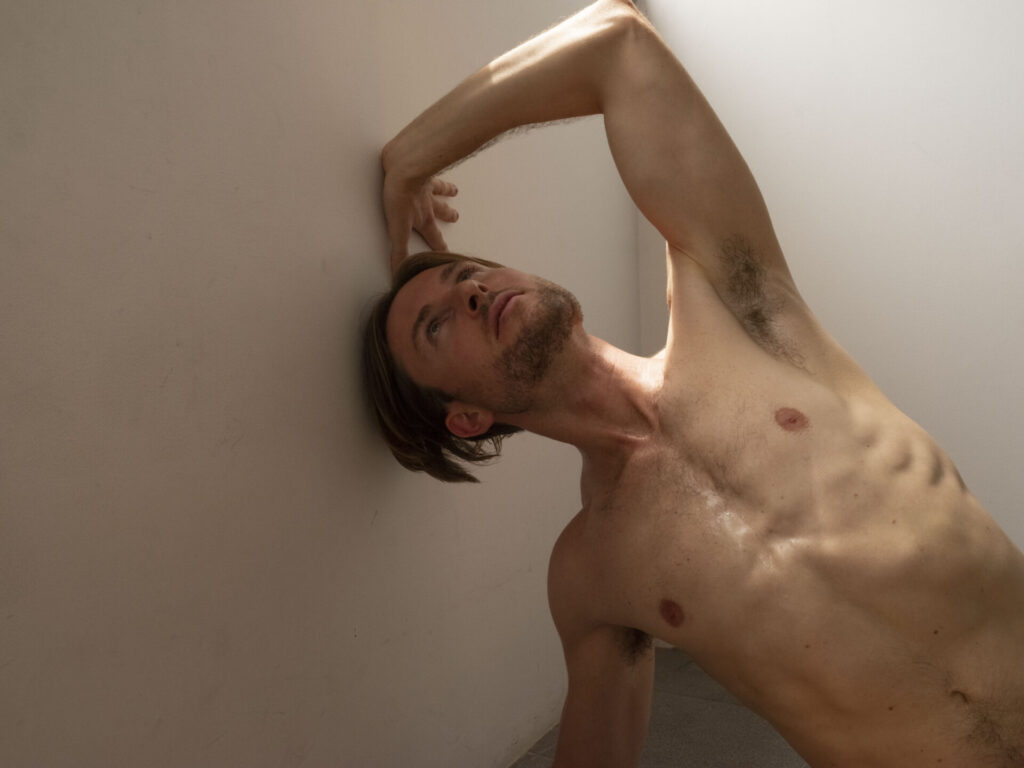 Mickey Bourne is a writer, poet and performance artist from Australia currently residing in Lisbon, Portugal. He is interested in the creative exploration of how bodies relate to text, the instability of psychogeographies, and non-linearity as a lived phenomenon. He aims to further postmodernist conceptualisations of embodiment, within art, medicine and technology, and generate interdisciplinary conversations about how we relate to ourselves, others and the world around us. His career as an artist has manifested in publications of poetry, creative nonfiction and academia; performance art; and the teaching of workshops exploring the intersection between movement and words, and how they relate to somatics and healthcare.
---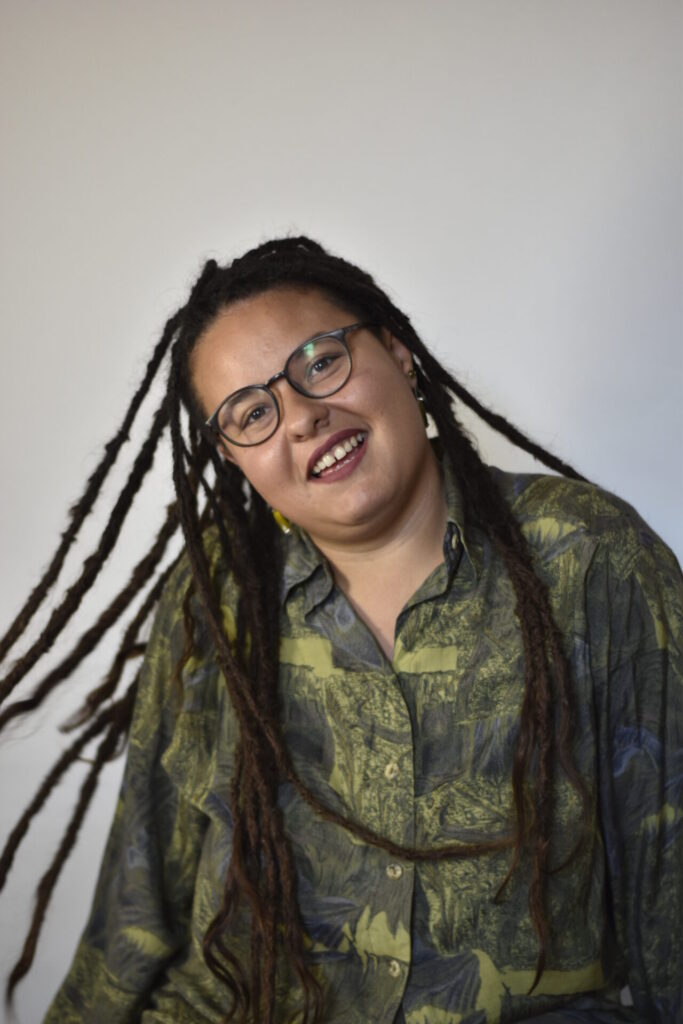 Anca Usurelu is a cultural researcher and producer based in Lisbon, Portugal pursuing an MA in Culture Studies at the LxConsortium (Universidade Católica Portuguesa). She is currently conducting projects investigating the interdisciplinary field of sound studies through arts-informed inquiry, whilst working as Studio Manager at the esteemed Studio Mónica de Miranda in Lisbon. Anca frequently works as assistant producer to projects at the Hangar – Center of Artistic Research (PT) and has also worked on several projects of the Developing Art Association (RO) since 2017. She is a contributing coordinator at independent curatorial project, AADK Portugal (2021) and curated and produced two shows for the Dyptich Art Space (RO) – "Back to the roots" by Alina Usurelu and Cristina Lilienfeld (2020) and "Realities" by Sabina Suru and Andrei Tudose. Anca holds a BA degree in Philosophy, Politics and Economics from Lancaster University (2019).